Imagine Commerce a Great Magento Event of 2015
Imagine Commerce 2015 Highlights from Magento on Vimeo.
Craig Hayman, the President of eBay Enterprise, once said: "Open Source wins every day. Every time." Nothing could have been more true during the Magento Imagine Commerce 2015 conference in Las Vegas. The conference, spanning three days from April 20-22nd, is a well known industry event. Each year designers, developers, agencies, and prospective clients gather together to learn more about the services, extensions, and new components the Magento community has made. Recently, we had the opportunity to go to our first Magento Imagine Commerce conference in Las Vegas, an event joined by 2,400 people from all across the world. Over forty countries were represented, proving just how vast the Magento community truly is, and just how far Magento has travelled since its inception.
In this article, we will discuss some of  the highlights of the conference, our take away from it, and why you should consider attending the Imagine Commerce conference next year. We will also discuss our overarching impression about the community around Magento. This community is truly about people working with people, and we could ask for no better people to work with than those we've met at this conference.
Community
The Magento community is an ecosystem, one which is built on the symbiotic relationship between agencies, independent developers, customers, and third party developers. More than that, though, its lifeblood comes from the diverse kinds of people who work exclusively in the industry, people from all backgrounds who came together in one big melting pot. Karen Baker from Webshopapps on Twitter refers to this phenomenon as the, "Secret sauce [that] was truly created" (4/23/15 2:29PM). In no other development community is there such a range of diversity, nor such excitement in the air. New ideas and innovations are praised and celebrated, and this mixing of cultures and values has created a platform that is truly remarkable.
This was our first Magento Imagine conference, and it was an eye opener to this larger community that Magento has developed, and continues to grow. We had heard about the community, its openness and energy for collaboration in the past, however, until the conference we were not able to fully grasp what that meant.
Since being bought out by eBay, we were very aware of community concerns in regards to where would Magento go in the future. Especially as so many of us depend on it and its stability for our businesses. This concern has always been in the back of our minds, despite our company's continual growth in the Magento eCommerce field. However, based on the overwhelmingly positive air at the Imagine conference, these concerns are gone and we see the community and eBay becoming something greater. Karen Baker refers to the eBay/Magento team as, "Team X because what was at Imagine was not Magento nor was it eBay Enterprise. It was the start of a birth of a new company." (From The Greatest Commerce Show Blog Post)
Not only is the community supportive of all people at different skill levels, they focus on learning and growing as a whole. While it might seem ridiculous, and cliche, Alexandre Dumas' The Three Musketeers quote readily comes to mind post conference: "All for one and one for all, united we stand divided we fall." The new talent that has been emerging, is strongly supported with enthusiasm from the Magento community, and we hope the energy and inspiration continues to grow for years to come making this platform achieve even greater heights.
What we learned
It is hard to summarize the blur of information from the Magento Imagine Commerce conference, but here are a few highlights:
We should never forget about the merchants. They depend on us as we depend on them. We need to stand behind them as they are lifeline to success.
You truly can easily go up to all members of the community and discuss your topics of interest. This seemed intimidating at first, but once you break the ice we were all human in the end.
Do good things and people will talk about it – from Fabrizio Branca – This summarizes the whole idea behind the community.
"Purple Squirrel" These are people with multiple skill sets that you should surround yourself with to succeed! Tips from @emilyculp at @rebeccaminkoff + great partners
Customer experience, otherwise known as omnichannel experience, will be the biggest trend in the future of Magento. Shoppers are expecting and demanding more from companies every day, and it will be our responsibility as a community to respond to those requests.
Shipping & logistics is more important than ever!
New leadership is arising in the Magento community, Sherrie Rhode was appointed Community Manager.
Magento Small Business was formally launched by Pixafy
Magento 2 is still on track for release at end of year and will be made for an easy upgrade without replatforming.
A new Connect/App Store is on the way! This will really help the community and agencies as all extensions will be verified.
Leadership is making ordinary people do extraordinary things–Steve Wynn wisdom via @productpaul 10:06 PM – 21 Apr 2015
There are so many more highlights which you can see them gathered here.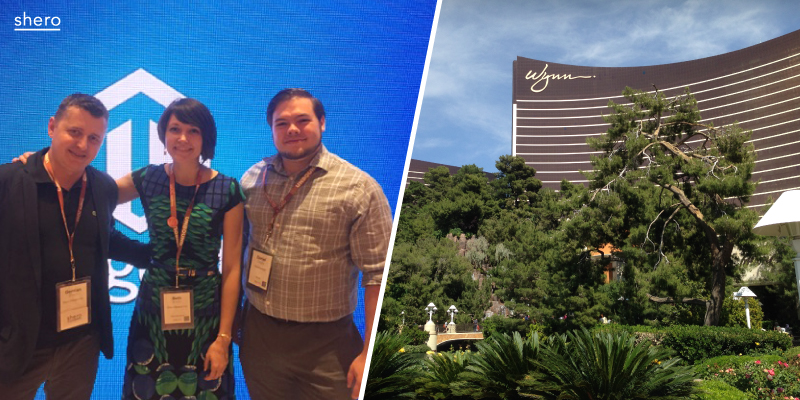 What we see in the future
So far Magento and its community has been kind, generous, and giving. We look forward to grow more in this space, as well as staying in touch with all of our new Magento friends. We are not all perfect, but we do excel in certain areas, allowing us all to access and use our inner genius. By having such a large community all over the world, we can lean on one another when we need help. So does Magento and its community. We hope to see the positive energy from the Magento Imagine Commerce conference transition into the real world to help merchants from all different walks of life.
If you have more to contribute or suggestions on our thoughts, please feel free to Tweet us at @sherodesigns. This is not only the beginning, but a great rebirth to a new Magento for the coming years.